Linings made of GLASS FIBER REINFORCED PLASTIC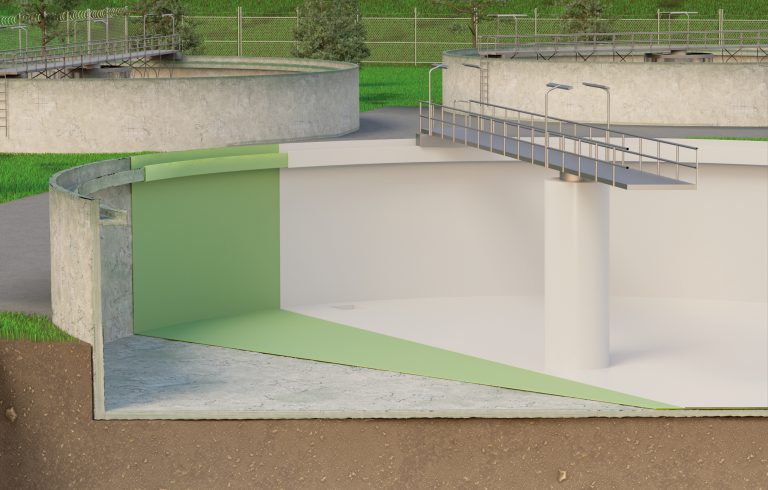 Linings of underground and above-ground containers or of rooms for collecting water-polluting liquids.
Dealing with water-polluting liquids requires special protective measures: single-walled containers, for example, should be retrofitted with a second wall or with a double-walled lining. Often, the installation room should also be prepared as a drip pan with a lining so that it is absolutely tight over a long period of time.
The lining from Haase consists of high-quality glass fiber reinforced plastic (GRP). This material is resistant to a wide range of media, corrosion-free, vacuum-tight, dimensionally stable and resistant to aging. In addition, the material offers high rigidity with low weight.
With the Haase system made of prefabricated GRP laminate panels, the greatest possible flexibility in the installation and assembly of room linings is possible. The plate material is pre-assembled according to the size of the space. The laminate panels are rolled up like a carpet for transport and fit almost anywhere, even through narrow doors or over narrow stairs. Even manholes or access hatches are not an insurmountable problem. This technology and the material have already proven themselves thousands of times with the Haase basement tank.
Moist walls are also not a problem. In order to provide ventilation, the panels on the back can be supplied with knobs as spacers. The GRP panels are attached to the structure and then all dowel points and panel transitions are over-laminated in a liquid-tight manner.
The double-walled lining has a particular advantage: the use of studded laminate creates a space that can be monitored between the two GRP walls, the vacuum of which is continuously monitored with a leak detector. The double-walled GRP lining therefore meets the highest requirements for safety and durability.
The GRP laminate panels are characterized by a particularly resilient surface. It can be walked on and driven on with a pallet truck or forklift.
THE ADVANTAGES
OF THE HAASE GRP LININGs
Safety and longevity

By using the most modern process technologies, the individual and dimensionally accurate GRP linings can be manufactured quickly and inexpensively

Fit anywhere

They are prepared according to the size of the collecting space: the panels are rolled up like a carpet for transport and thus fit almost anywhere – even through narrow doors or over narrow stairs

The safety

they can be double-walled with leak monitoring

Easy installation

They are individually adapted and assembled on site by our trained staff

High chemical resistance

they are suitable for collecting over 150 water-polluting liquids
Flexible use

with the system of pre-assembled GRP laminate panels, they allow the greatest possible flexibility in installation and assembly

Advantages of using GRP

they are light, practically maintenance-free and resistant to corrosion and weather

Stability of the GRP panels

they are particularly resilient, can be made non-slip and are suitable for walk-in and passable areas

The assembly

they are attached to the structure and then all dowel points and plate transitions are overlaminated in a liquid-tight manner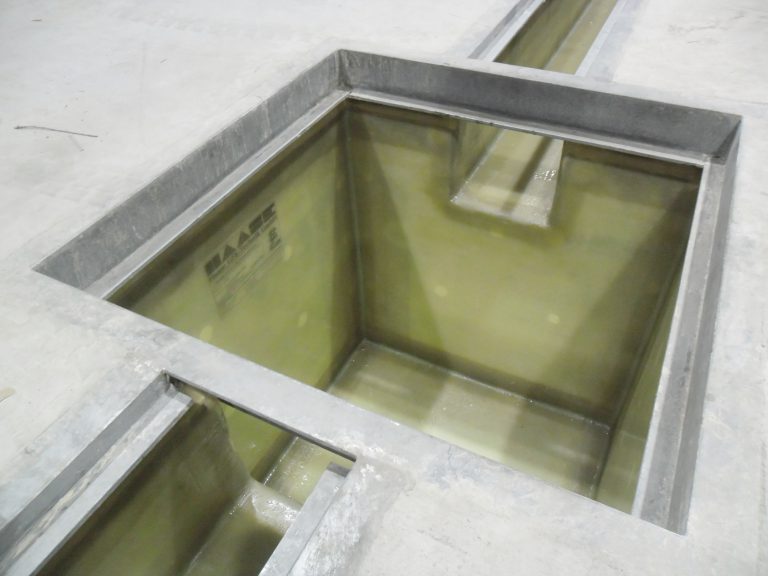 The lining of the company Haase Tank GmbH has the general building approval Z-59.12-232 of the German Institute for Building Technology. The material GRP enables the Haase lining to be used for the storage of heating oil EL (according to DIN 51601-1), diesel fuels (according to DIN EN 590), unused engine and gear oils as well as mixtures of saturated hydrocarbons with a flash point > 55 ° C.
Do you have any questions?
We will be happy to help you by phone or email.
GRP LININGS
The Haase linings are characterized by high mechanical and chemical resistance. They are light in weight and are particularly durable. During installation, they are laminated together in an odor-proof manner with the help of special resins and thus permanently bonded. It is easy to retrofit flanges or other built-in parts.
You can find more information on our GRP material and the various manufacturing processes on this page.
THE LININGs IN PRACTICE:
CONVINCE YOURSELF WITH OUR REFERENCES
Do you have any questions, would you like a specific offer or a free and non-binding on-site appointment? Then send us a message using our contact form or call your contact person Mr. Sebastian Eggert directly at +49 35 952 – 355 19.