Underground Hot Water Tank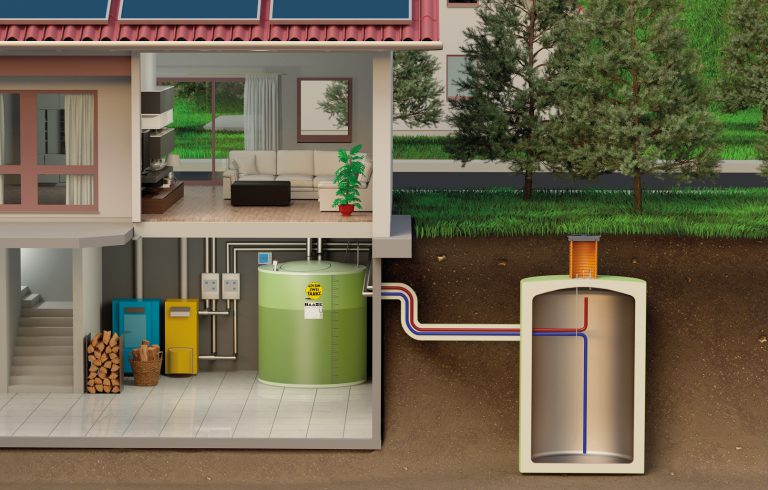 THE CHALLENGE
The successful and efficient modernization or retrofitting of heating systems crucially depends on the installation of a underground hot water tank system that matches the heating system.
But this is where the difficulties often begin: the space conditions often do not allow installation in the building. The only alternative here is a storage facility that can be buried in the ground.
THE SOLUTION
With the T 300, Haase offers a buffer storage that can be retrofitted to any heating system without taking up additional space in the house. With the standard sizes and equipment, there are already many options for effectively integrating the storage tank into the heating system. In addition, special solutions in terms of size and equipment are also possible.
THE ADVANTAGES
OF THE HAASE UNDERGROUND HOT WATER TANK
Solves your space problems

because the hot water tank is built into the earth. A basement or another room is no longer necessary and can be used for other purposes

Can be used flexibly

Because with the different sizes from 1,900 liters to 14,300 liters volume as standard sizes and our special sizes from 1,100 liters to 100,000 liters volume, a wide range of applications can be covered

Easy to integrate into your heating system

because the inner container is a steel pressure tank and designed for an operating pressure up to 3 bar (alternatively 6 bar) and an operating temperature up to 110 °C
Can also be used in areas with high groundwater levels

because the hot water tank can be secured against buoyancy with little effort

Advantages of using GRP

because the hot water tank has a waterproof and corrosion-free outer skin made of glass fiber reinforced plastic and thus protects the inner tank from moisture

Effectively stores the heat

because the T 300 is excellently insulated with 100 mm polyurethane (PUR) foam and the GRP outer skin

Easily installed

because Haase also takes over the complete installation of the hot water tank at the customer's request. Within a few hours, we will dig out the pit, insert the container and remove excess soil
THE TECHNOLOGY OF THE UNDERGROUND HOT WATER TANK IN DETAIL
The T 300 underground hot water tank is available in five different standard sizes. The possible volume is between 1,900 liters and 14,300 liters.
The tank consists of a steel pressure vessel, which is insulated with 100 mm thick polyurethane foam all around. This insulation is protected against the presence of rain or ground water by a cover made of glass fiber reinforced plastic (GRP). GRP is dimensionally stable, age and temperature resistant and 100% corrosion-free and therefore ideally suited for protecting the heat accumulator. If the groundwater level is high, the T 300 underground hot water tank can be equipped with cost-effective buoyancy protection.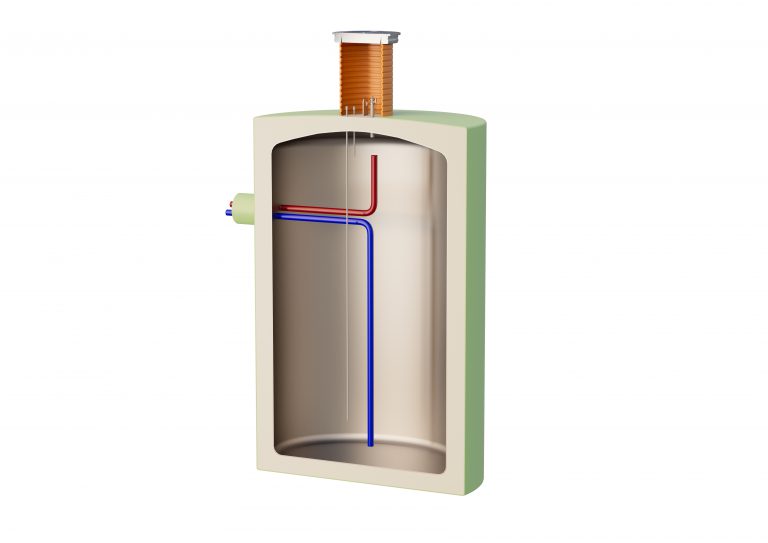 TECHNICAL SPECIFICATIONS
Operating medium: heating water
Operating pressure: 3 bar – 6 bar
Operating temperature: max 110 ° C
Lateral protective pipe connection for KG pipe DN 200, flow and return DN 40
Upper inspection shaft DN 300 with 2 sensor tubes DN 10 and 1 vent connection 1″
the plastic cover is accessible (drivable variant possible)
Pressure vessel according to Art. 3 Para. 3 of the Pressure Vessel Directive for operation without a gas cushion
Do you have any questions?
We will be happy to help you by phone or email.
THE RIGHT TANK SIZES FOR YOUR NEEDS
On customer request, we also offer the complete installation of the storage tank with our special vehicles.
Within a few hours, we take care of digging the pit, storing the container, filling the pit and driving off the excess earth.
UNDERGROUND HOT WATER TANK MADE OF GRP
The underground hot water tank made of glass fiber reinforced plastic is particularly durable thanks to the high-quality material and is resistant to aging and weather. It can withstand high temperatures and has a high thermal insulation capacity.
You can find more information on our GRP material and the various manufacturing processes on the following page.
The underground Hot Water Tank in practice:
CONVINCE YOURSELF WITH OUR REFERENCES
Do you have any questions, would you like a specific offer or a free and non-binding on-site appointment? Then send us a message using our contact form or call your contact person Mr. Mike Seiferheld directly at +49 35952 – 355 20.