Sludge Trap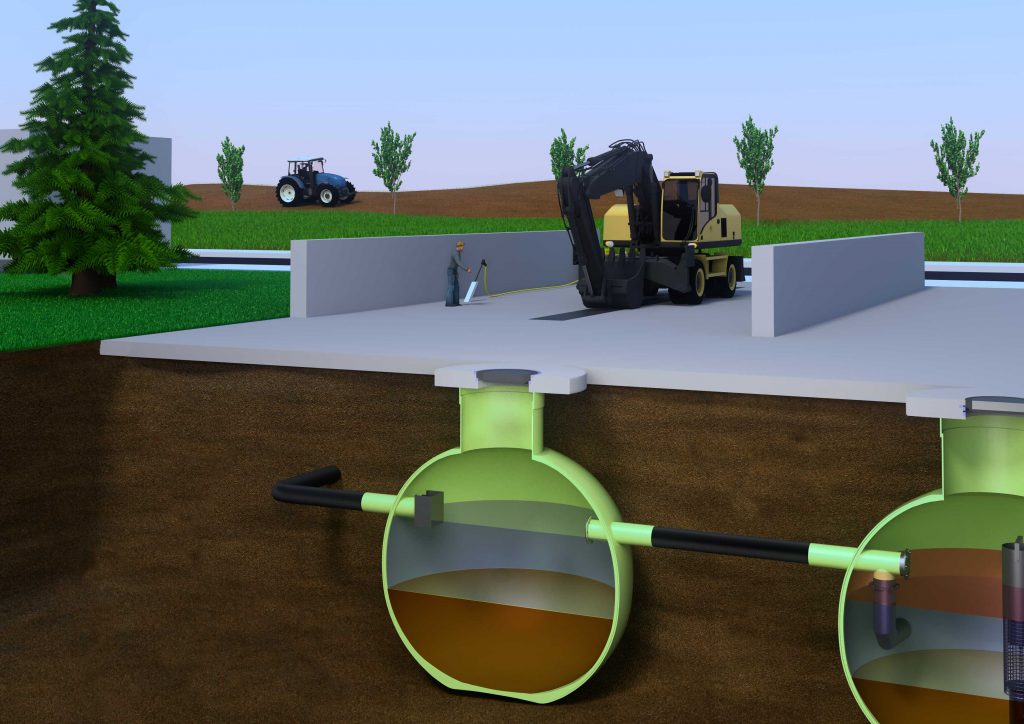 Sludge traps are part of the separator system, in which solids settle due to the principle of gravity. In the case of high volumes of solid matter, sludge traps are used as a separate structure in front of the separator. The sludge contained in the pre-sludge trap must be disposed of at the latest when the separated sludge quantity has filled half of the sludge trap volume.
THE USE OF SLUDGE TRAPS
Sludge traps are used in washing areas with a high sludge volume, e.g.
THE ADVANTAGES
OF HAASE SLUDGE TRAPS
Resistance

Glass fiber reinforced plastic (GRP) is dimensionally stable, corrosion-free and chemically durable

Installation

also possible in cohesive clay soils and in groundwater, without complex substructure or foundation

No follow-up costs

due to peeling coating or leaky joints in the shaft structure

Flexibility

Seamless dome shaft extension for realizing large installation depths and adjustable top section for variable adaptation to the top edge of the site
Tightness

Dome shaft and pipe connections are factory-made on the tank, so there are no joints

Weight

low weight enables short installation times and moving with an excavator – no heavy-duty crane is required

Stability

Thanks to special polymer concrete, loads of up to 60 tonnes and feed depths of over 4 m can be achieved

Cleaning

Due to the spherical shape, the mud traps have no edges on which dirt can stick
HOW OUR SLUDGE TRAPS WORKS
The flow of the polluted waste water is directed in the sludge trap via a baffle plate at the inlet towards the tank bottom. Due to the higher specific weight, the solids settle on the ground and the wastewater freed from sediments flows into the light liquid separator.
EQUIPMENT
liquid-tight dome shaft extension
accessible and drivable manhole cover
Alarm system for sludge level measurement
Leak detector for checking the tightness of the tank wall
THE RIGHT SLUDGE TRAP SIZE FOR YOUR NEEDS
Do you have any questions?
We will be happy to help you by phone or email.
THE SLUDGE TRAP IN PRACTICE:
CONVINCE YOURSELF WITH OUR REFERENCES
Do you have any questions, would you like a specific offer or a free and non-binding on-site appointment? Then send us a message using our contact form or call your contact person Mr. Danilo Schlenz directly at +49 35 952 – 355 15.