Fat Separator in the building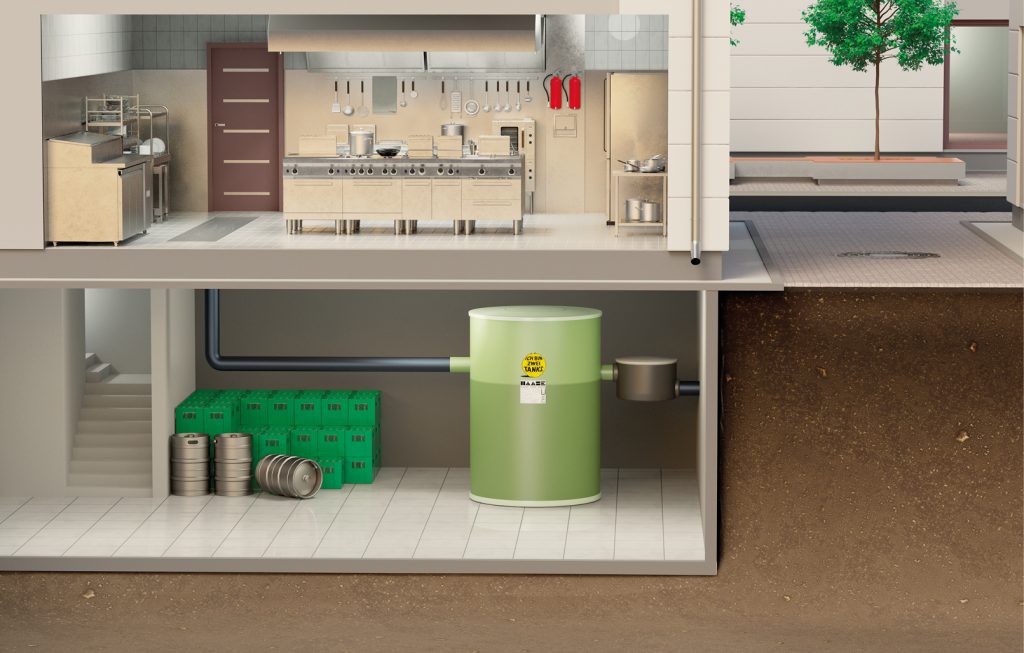 The type FK fat separator is equipped with an integrated sludge trap and is for free installation inside buildings. It is particularly suitable for rooms with difficult access conditions.
The fat separator is delivered in individual parts. The wall is rolled up like a carpet, the floor and lid are – if necessary – also halved. So it fits through every door, even through small hatches. The fat separator is only assembled on site.
THE FIELDS OF APPLICATION OF fat Separators
Fat separators are mandatory in companies where dirty and rinsing water containing grease and oil is produced.
Further areas of application: slaughterhouses, canning factories, hotels, canteens, motorway service stations, ready meals manufacturers
THE ADVANTAGES OF THE FREE-STANDING fat Separator
On-site installation

Access 600 x 600 mm sufficient

Permanently tight & durable
Corrosion-free built-in parts

Compact construction

Flexible connections
FUNCTIONALITY
The flow rate of the incoming wastewater is reduced in the fat separator. The separation of the separable substances from the soiled dirty water takes place purely physically on the basis of the principle of gravity. Due to their lower density, oils and fats rise to the water surface and are retained in the fat separator. Due to their higher specific weight, sludge and solids sink to the bottom and are deposited there.
In the Haase separator system, the functional areas sludge trap and fat separator are arranged one above the other without spatial separation. The pre-cleaned wastewater then flows into the sewer via a sampling device. According to DIN EN 1825, the content of the separator must be completely emptied regularly, at least once a month, once the sludge trap or fat collection chamber has reached its storage capacity. After the subsequent cleaning, the separator has to be filled again with water which corresponds to the local discharge regulations.
Fat Separator (FK)
according to DIN EN 1825-1 and DIN 4040-100
with type test for effectiveness and CE marking
Size Chart

Equipment
Suction device
sampling device
lifting system
Do you have any questions?
We will be happy to help you by phone or email.
Fat SEPARATOR MADE OF GRP
The Haase fat separators in the building are based on the principle of the flat-bottom tank. These have been successfully built on site for many years and have proven themselves against a wide variety of media. The media attack in the food waste tank is comparable to that of a fat separator. This shows the special quality of the glass-fiber reinforced plastic: You can find more information on our GRP material and the various manufacturing processes on the following page.
THE fat SEPARATOR IN PRACTICE:
CONVINCE YOURSELF WITH OUR REFERENCES
Do you have any questions, would you like a specific offer or a free and non-binding on-site appointment? Then send us a message using our contact form or call your contact person Mr. Danilo Schlenz directly at +49 35 952 – 355 15.