Light Liquid Separators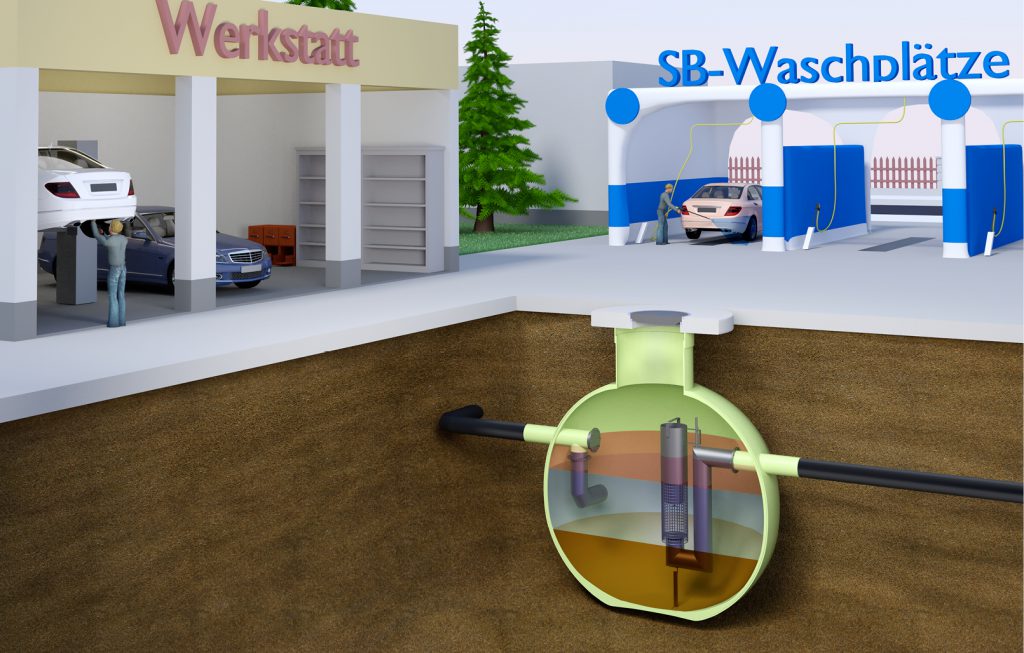 Light liquid separators are used to treat mineral oil-containing wastewater or as retention devices and thus prevent mineral oils from getting into drainage systems.
The Haase light liquid separators are characterized by their special container. Due to the combination of glass fiber reinforced plastic (GRP) and polymer concrete, the separators are permanently resistant to chemicals and can withstand high static loads.
THE APPLICATION AREAS OF THE LIGHT LIQUID SEPARATOR
Light liquid separators are prescribed in companies where large quantities of oil or petrol are stored or can escape, e.g.
Further areas of application: scrap yards, car dealerships, transfer stations, freight forwarders, building yards, fire stations
THE ADVANTAGES
OF THE HAASE LIGHT LIQUID SEPARATOR
Resistance

dimensionally stable, corrosion-free and chemically permanently resistant thanks to the material GRP

Tightness

Dome shaft and pipe connections are factory-made on the tank, so there are no joints

Installation

also possible in cohesive clay soils and in groundwater, without complex substructure or foundation

Weight

Short installation times due to the low weight, enables moving without a heavy-duty crane

Entry

through the DN 1,000 manhole, without having to disassemble individual components
No follow-up costs

due to peeling coating or leaky joints in the shaft structure

Stability

Thanks to special polymer concrete, loads of up to 60 tons and inlet depths of over 4m can be achieved

Flexibility

Seamless dome shaft extension for realizing large installation depths and adjustable top section for variable adaptation to the top edge of the site

Compact

Sludge trap and coalescence separator are in one tank

Cleaning

due to the spherical shape, the separators have no edges on which dirt can stick
HOW OUR LIGHT LIQUID SEPARATORS WORK
Oil or gasoline separators (class II)
The class II separator separates the separable substances from the calmed waste water purely physically on the basis of the principle of gravity. Oil and petrol collect on the water surface due to their lower density, solids such as sand and mud sink to the bottom due to their specifically higher weight.
Coalescence separator (class I)
In the class I separator, the smallest drops of oil and petrol are brought together to form large droplets, which rise more easily and can therefore be retained better.
Automatic closure
The automatic closure consists of a float that has a higher density than oil but a lower density than water. The float is thus between the water surface and the separated light liquid and closes the separator when the maximum storage volume is reached.
<div class="wp-block-image has-replacement" title="YouTube|<iframe width="560" height="315" src="https://www.youtube.com/embed/KsD8G8Wshks" frameborder="0" allow="accelerometer; autoplay; encrypted-media; gyroscope; picture-in-picture" allowfullscreen>