HOT WATER TANK FOR PRIVATE CUSTOMERS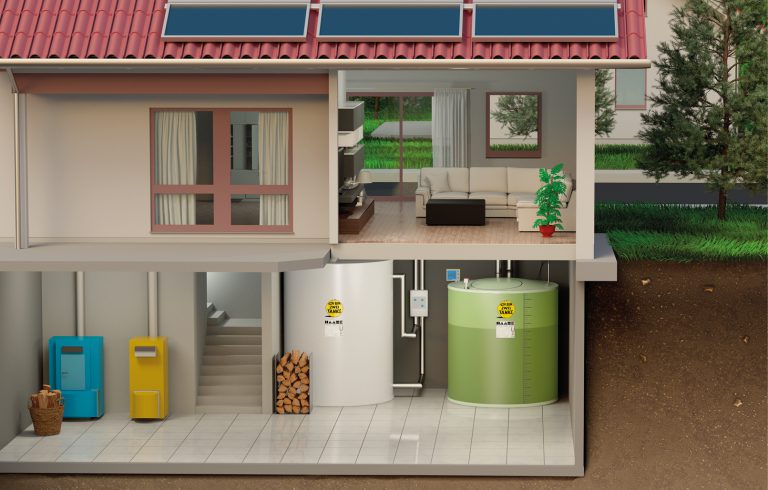 HAASE HOT WATER TANK T 400: FITS THROUGH EVERY DOOR
On-site mounted hot water tank made of glass fiber reinforced plastic, which can be adapted to a wide variety of space, volume requirements, energy sources and consumers. The unpressurized storage tank can be operated at a maximum temperature of 95 °C and can be installed both inside and outside buildings.
HEAT STORAGE
The sustainable securing of the livelihood for future generations requires everyone to use the available resources carefully. A sensible mix of conventional and regenerative energy will make a decisive contribution to this. The basic prerequisite for this will be to compensate for the temporal fluctuations between energy supply and consumption through the use of storage. It is irrelevant whether heat is provided by solar systems, a solid fuel boiler, a heat pump, a combined heat and power plant or other heat sources. Electrical energy can even be stored via a heating cartridge.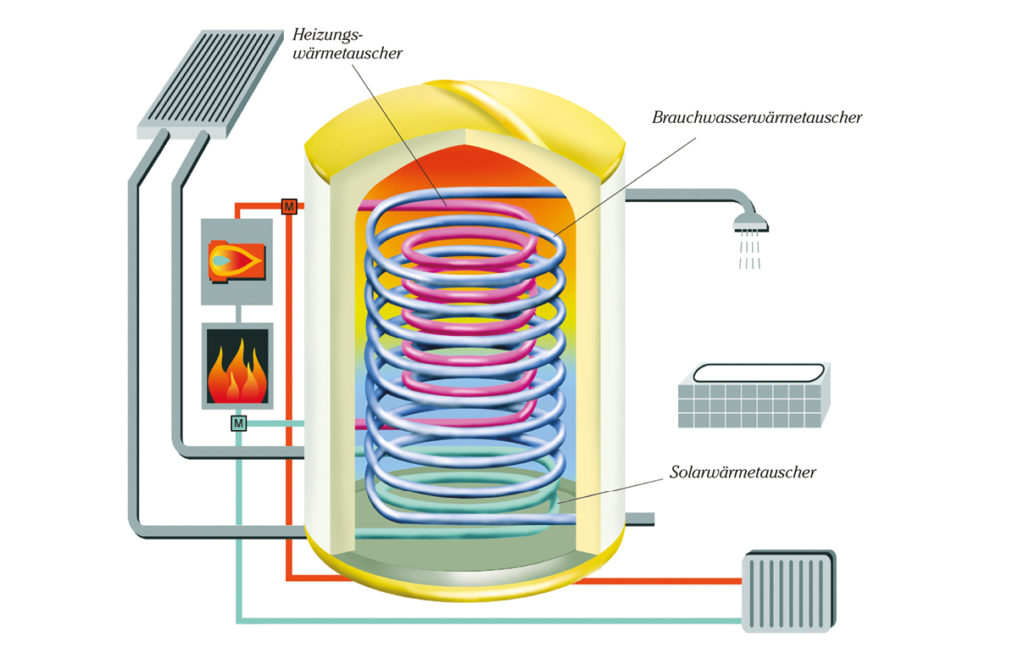 THE ADVANTAGES OF THE HAASE HOT WATER TANK
Small through the door – big in the basement,

because the hot water tank is delivered in individual parts and assembled on site. Narrow doors and narrow stairs are no longer a problem, also because of the low weight of GRP.

Various equipment options,

because the hot water tank can be equipped with a corrugated stainless steel tube or a stratified charging unit or can be designed as a buffer. A combination is also possible, which enables adaptation to almost any system (see equipment variants).

Optimal use of space,

because the hot water tank can be realized with diameters from 1.30 m to 4.40 m and heights from 1.35 m to 9.70 m and can therefore be adapted to almost any room (see size table).
Wide range of applications,

because the variable equipment of the hot water tank enables a variety of applications – thermal energy from various sources (solar system, solid fuel boiler, oil or gas boiler, waste heat, heat pump, etc.) can be stored and the storage can also be used as a cold storage. Of course, excess electricity can also be fed in via a heating cartridge.

Different installation options,

because the hot water tank can be used both inside and outside.

Advantages by using GRP,

because glass fiber reinforced plastic is corrosion-free, age-resistant, has a low weight and has a high insulation capacity – in addition, unlike many other plastics, it can be used up to a maximum temperature of 95 °C.
EQUIPMENT VARIANTS FOR THE HOT WATER TANK
The GRP material used is dimensionally stable, age and temperature resistant and 100% corrosion-free. Another great advantage of GRP is the very low heat conduction. Depending on the diameter, the thermal insulation of the tank consists of 100 mm thick, pressure-resistant insulation panels on the floor and aluminium-laminated insulation wool with at least 100 mm thickness in the jacket and 200 mm in the lid area. Glass-fiber reinforced plastic is also used for the outer tank wall, which covers and protects the insulation. Up to tank type T 422-87 (9,100 liter volume), heat exchangers made from corrugated stainless steel are used as standard. Stratified charging units or flange connections can be used for high transmission capacities or larger storage capacities.
Do you have any questions?
We will be happy to help you by phone or email.
STORAGE SIZES OF THE HOT WATER TANK
Haase offers the optimal storage size for every application: 10 different diameters between 1.30 m and 4.40 m and heights of up to 9.70 m enable a volume of up to 100,000 liters. The hot water tank from Haase can thus adapt to all spatial conditions and thus guarantees the high efficiency of the overall system.
In the case of a planned outdoor installation, assembly at the factory with subsequent transport to the construction site is also possible.
1,000 LITERS TO 100,000 LITERS
. When installing the tank, it is sealed odor and liquid-tight using special resins. GRP has poor thermal conductivity – so there is very little heat loss.
You can find more information on our GRP material and the various manufacturing processes on the following page.
EQUIPMENT FOR THE HOT WATER TANK
STANDARD EQUIPMENT
Styrodur floor insulation
Coat and cover insulation made of mineral wool
Filling / emptying DN 15
4 DN 10 temperature sensor empty pipes
level indicator
EQUIPMENT ON REQUEST
double insulation
Filling / emptying DN 50
additional temperature sensor empty pipes
Circulation lance for connecting the circulation line to the hot water tank
Cross flow pipe for better layer behavior of the buffer tank
THE HOT WATER TANK IN PRACTICE:
CONVINCE YOURSELF WITH OUR REFERENCES
DOWNLOADS TO THE HAASE HOT WATER TANK
Do you have any questions, would you like a specific offer or a free and non-binding on-site appointment? Then send us a message using our contact form or call your contact person Mr. Mike Seiferheld directly at +49 35952 – 355 20.