In October 2013, the time had come in the Reinsdorf district of Lutherstadt Wittenberg: the hot water tank system from Haase was put into operation at Reinsdorfer Fleisch- und Wurstwarenmanufaktur GmbH. "We have had a multi-stage system for the use of our production waste heat installed in our halls," says managing director Pierre Kaaden. The closed cooling water circuit between two autoclaves for boiling and sterilizing sausage glasses reduces the drinking water requirement by around 6 million liters per year. In addition, there are about 265,000 kilowatt hours Energy that the Wittenberg company saves on hot water production. With an investment of around 25,000 euros, the system already pays off in the first year, according to Kaaden, since savings of 47,000 euros are expected.
In the meat and sausage manufacture, the hot water tanks are used in two directions – for water heating and cooling. On the one hand, drinking water is heated with waste heat for production and cleaning purposes, and the two autoclaves are cooled at the same time. The closed cooling and heat storage circuit system consists of three stages. In stage 1, the cooling water of the two 70 kilowatt autoclaves, heated to approximately 110 ° C, is stored in a large hot water tank with a volume of 4,200 liters. From a temperature of around 55 ° C, it is redirected to the smaller storage tank (2,750 liters) until the remaining heat energy has been used up. In the third stage, the water flows back into the plate heat exchangers of the autoclaves as a coolant in order to absorb heat and start the cycle again.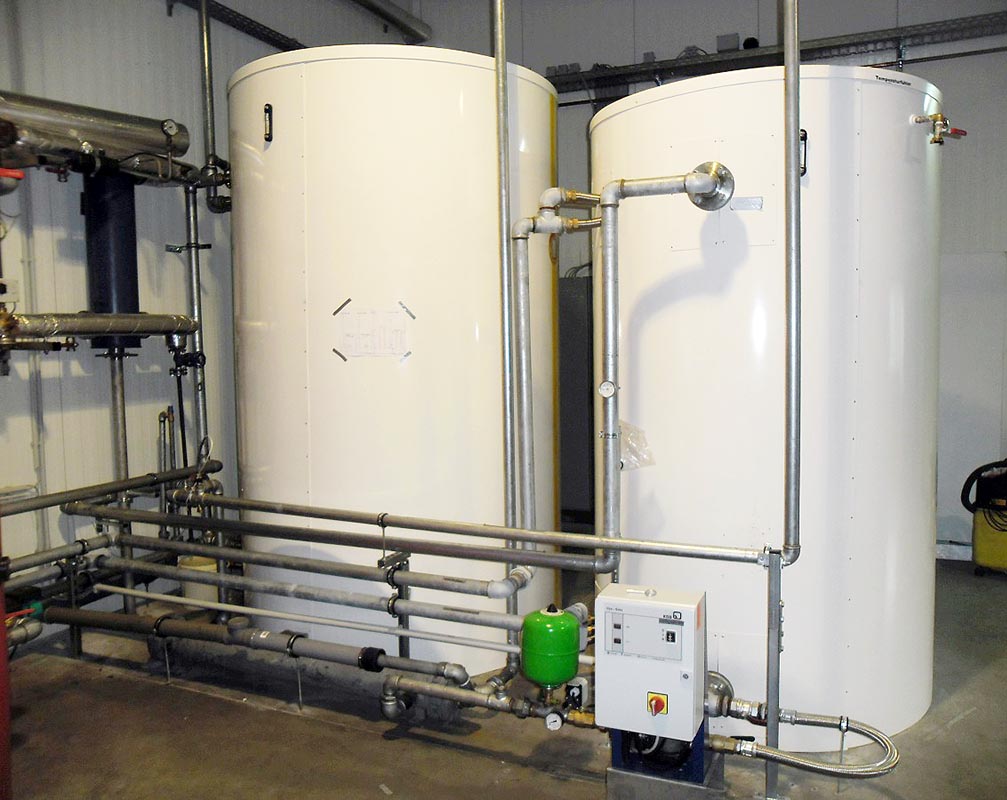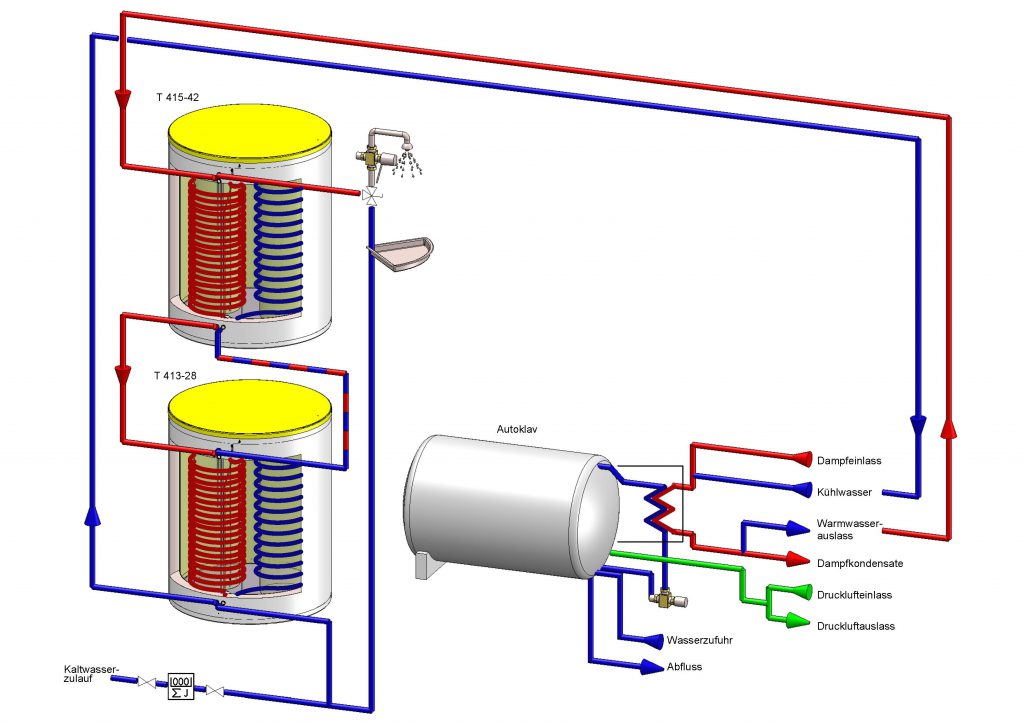 The drinking water to be heated, which is used in the manufacture, takes its way in the opposite direction through the hot water tank in its own pipe system.
The company's own well and the municipal water supply supply the necessary cold water. First, it is heated by heat exchangers in the smaller hot water tank from 10 to about 25 ° C. The process water then flows through the 4,200 liter storage tank and is heated up to 55 ° C there. Hot water from "in-house production" can be used in the entire factory. A gas boiler with fossil fuels is only required to heat the spring water by 10 ° C to 65 ° C.
The two autoclaves each have an output of 70 kW. The hydraulic integration of the hot water tank into the overall system is easy to implement. The serial integration means double savings. The hot water tanks can be integrated in the same way in the system flow as well as in the return by the loading and unloading pump without interfering with the existing control. The consumer groups alone take care of the loading (production waste heat) as well as the unloading (drinking water heating), to the extent necessary.
Data hot water tank
Type: 415-42, assembled on site
Filling volume: 4,200 liters
Height: 2.80 m
Diameter: 1.50 m
Heat generator
Production waste heat from 2 autoclaves with approx. 70 kW
Consumer
Equipment:
Loading and removal via internal stainless steel corrugated pipe heat exchangers