HOW TANKS ARE MADE FROM GRP
The flexible, durable and resistant material glass fiber reinforced plastic (GRP) forms the basis for all products from Haase Tank GmbH.
Glass fiber reinforced plastic is a composite material made of glass and resin.
Glass fibers are characterized by a high mechanical strength, resin systems, on the other hand, have a very high chemical and corrosion resistance.
Depending on the requirements, various resins (polyester resins, vinyl ester resins, etc.) and a wide range of reinforcing fibers (glass fiber mats, glass fiber rovings, synthetic fleece) are used. The combination of various starting materials results in a variety of fields of application and qualifies GRP with the following outstanding properties:
Corrosion resistance
Resistance to aging and weather
Low specific weight with high mechanical parameters
High chemical resistance
Odor and diffusion tightness
Temperature resistance
Low thermal conductivity, high thermal insulation
Easy to edit afterwards, e.g. Laminating flanges
These properties create excellent conditions for the production of tank systems and linings.
DOUBLE WALLS THROUGH GRP
As a standard, Haase storage tanks are made of double-walled fiberglass and equipped with an automatic leak detection system. This means that the tank does not require a sump, saves installation space and can even be installed in water protection areas.
FLAT BOTTOM TANKS
Haase flat-bottom tanks are double-walled. The two walls are made of GRP, with the inner wall having a nubbed surface. This surface ensures a distance between the inner and outer tank wall. The air is sucked out of this interstitial space by means of a leak detection device and thus a negative pressure is generated. This condition is checked by the leak detector and the tank is constantly monitored for leaks internally and externally.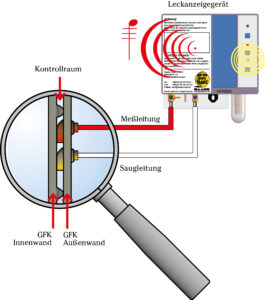 SPHERICAL TANKS
Haase spherical tanks are constructed with three walls. The load-bearing wall made of resin-bound gravel (polymer concrete) is located between the inner and outer wall made of GRP. The fine cavities between the pebbles form a gas and liquid permeable control room. In order to monitor the safety of the Haase spherical tank, a negative pressure is generated in the control room, which is monitored around the clock by a vacuum leak detector.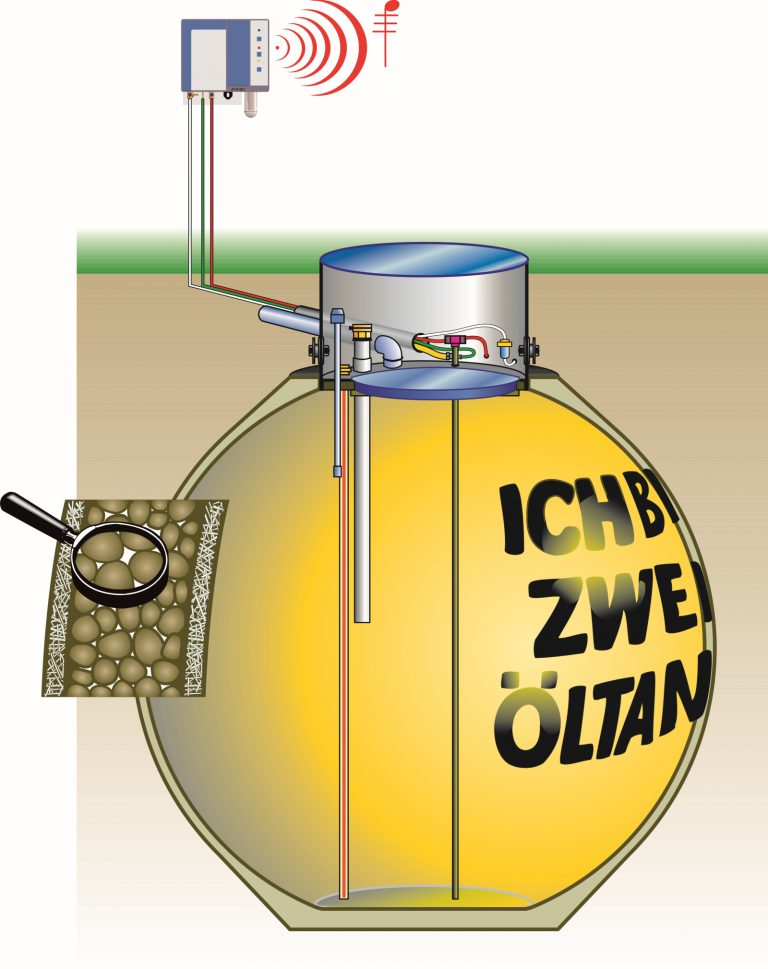 PRODUCTION METHODS
Fiber Resin Spraying Procedure
Fiber resin spraying is a partially automated manufacturing process for the production of large-area components made of GRP. Glass fibers are cut in a cutting unit and simultaneously injected onto a mold with the resin.
The application of the GRP layers is robot-controlled and enables the reproducible manufacture of high-quality components.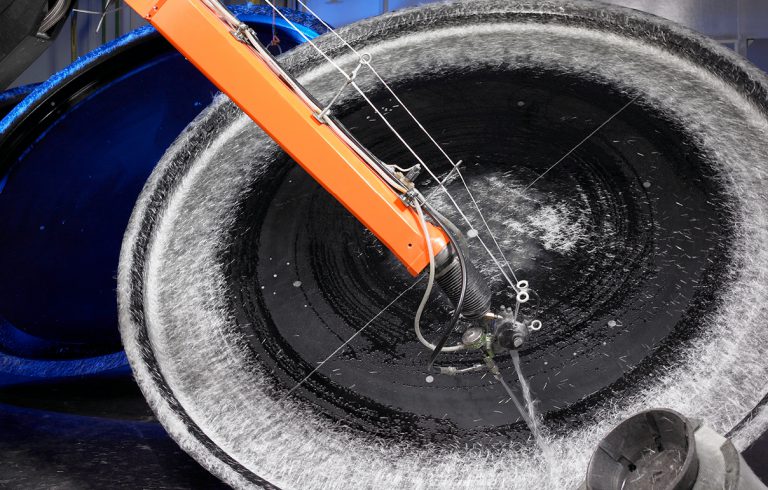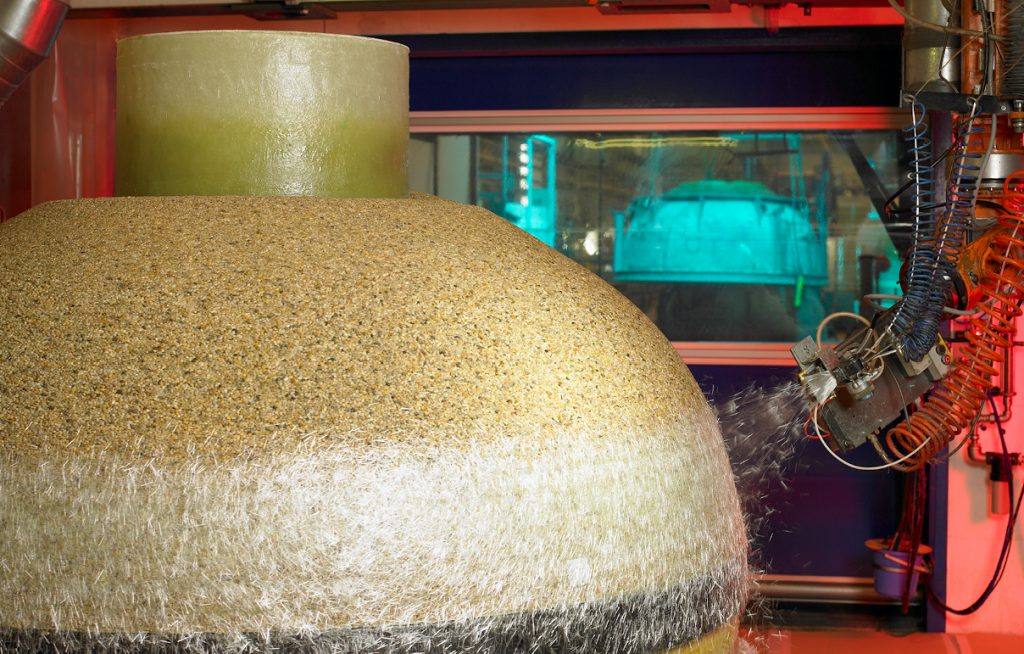 Trimming Robot
Trimming and sanding of various GRP products are carried out semi-automatically by robots. This technology enables reproducible production with the highest quality.

The tools are automatically changed on the system. Components up to a diameter of 4.00 m can be processed.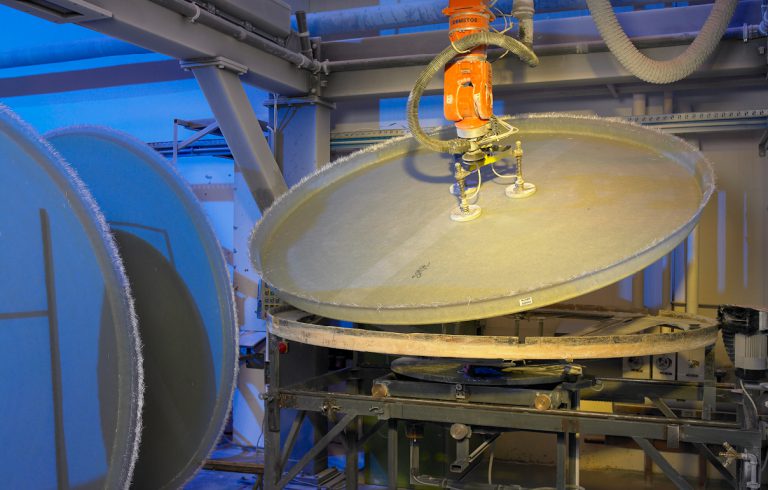 WATER JET CUTTING SYSTEM
The system is freely programmable and is used both for processing your own products and for contract work.
The water jet cutting system cuts precisely various GRP parts by extremely high pressure with a tightly bundled water jet. The processing is low-emission in an enclosed cabin. Haase has one of the few portal systems worldwide that can process components with dimensions of 4.50 mx 4.50 m.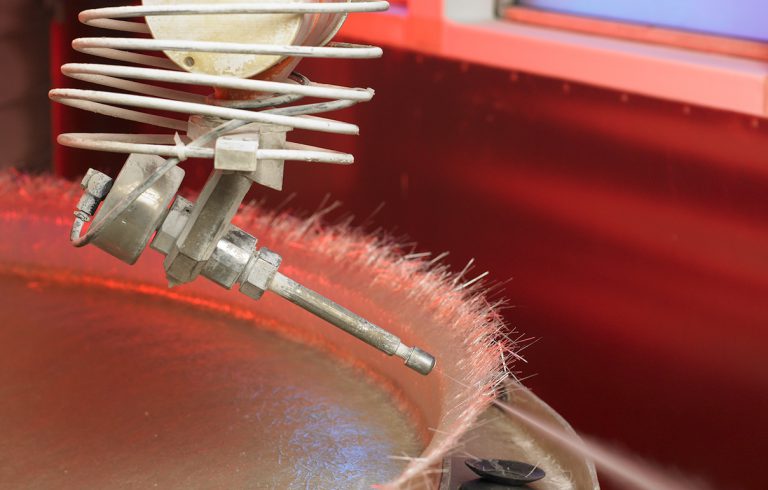 LAMINATING PROCESSES
In the lamination process, smooth and nubbed panel laminates made of GRP with a length of up to 35 m and a width of 3.3 m are produced. The production is semi-automated.
The coating of the plate system with glass fiber layers, the resin application as well as the ventilation and compression are controlled by machine. Curing takes place using UV radiation and enables curing times of a few minutes.
A special surface of the panel system is required for the production of the knobbed laminate. This unique laminate shape makes it possible to install double-walled tanks on site and permanently monitor the tightness of the tank wall.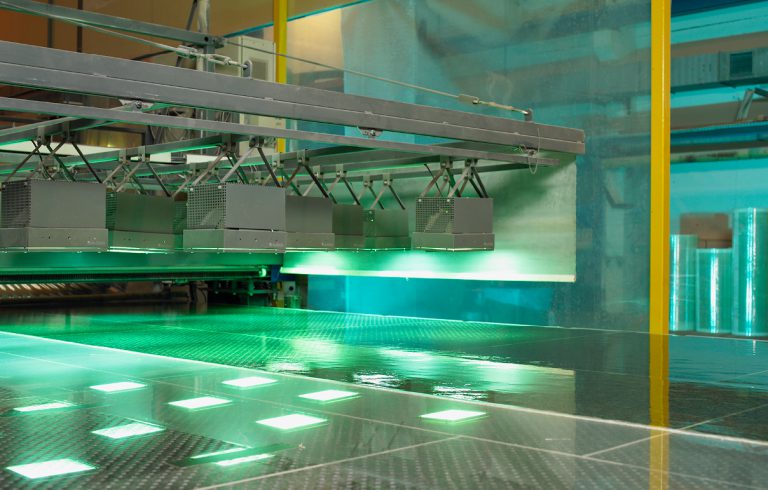 PRESSING PROCESS
When pressing molded parts with the 800 t press in cold or hot curing, various materials such as Unsaturated polyester resins with glass fiber mats or sheet-like resin mats (SMC) are used.
INJECTION PROCEDURE
In the injection process, the reinforcing material – essentially cut-to-size mats or fabric – is arranged on a mold half in accordance with the desired orientation, into which the cold-curing resin is sucked and / or pressed after the tool has been closed.
FOAMING
A high-performance dosing system for applying PU foam and other fast-curing materials is used to insulate containers.