UNDERGROUND HEATING OIL TANK FROM HAASE
The Haase underground tank – triple-walled, spherical and made of monitorable special poly-concrete with glass fiber reinforced plastic inner and outer walls.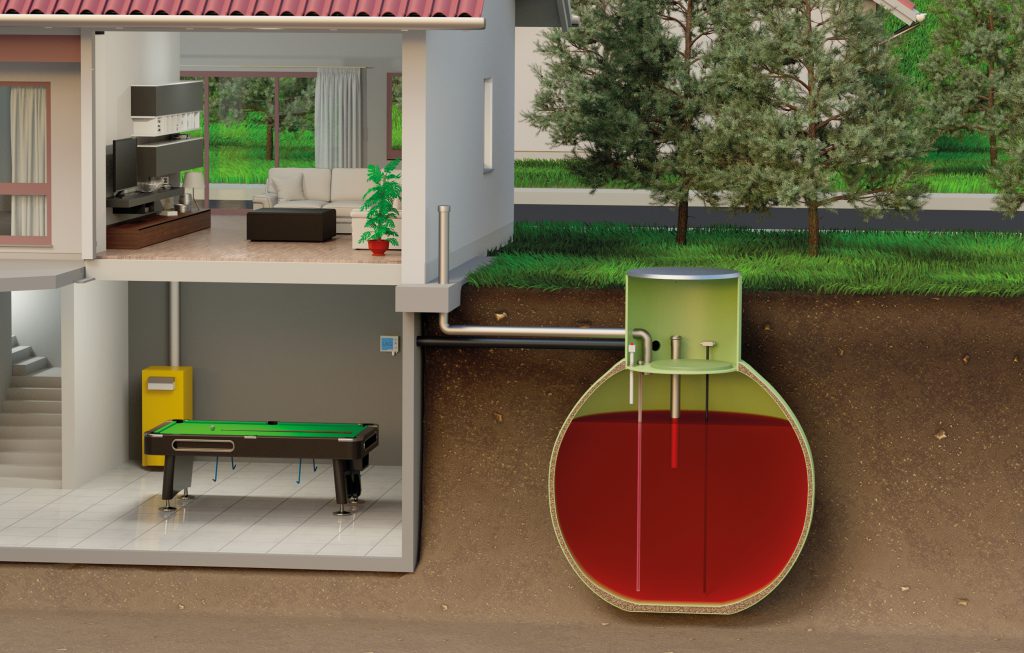 Oil heating has been reliably providing heat for decades – in almost 6 million households in Germany alone. Thanks to continuous technical development, a modern system offers one thing above all: pure efficiency. If you have opted for oil heating, then you have made a good choice: thanks to the latest condensing technology, oil heating is low in pollutants and environmentally friendly. Oil consumption can be reduced even further if the heating system is combined with a solar system and a correspondingly large hot water tank.
THE ADVANTAGES:
THE HAASE UNDERGROUND TANK …
is safe,

because it is double-walled and monitors itself around the clock with a leak detector – tank inspections no longer require an inside inspection.

is in the ground,

so it creates space in the basement for a hobby room, party cellar, sauna and much more!

is the solution for areas with high groundwater levels,

because the tank can be secured against buoyancy with little effort.
is assembled in no time,

because within a few hours we take care of digging the pit, storing the tank and driving off the excess soil. The customer can store the tank under consideration of the transport and installation conditions.

is extremely stable and resilient,

because it withstands loads of up to 100 t and is suitable for the area that can be driven over.

is particularly easy to maintain,

because when cleaning the tank, fittings or connections no longer have to be removed.
THE INSTALLATION
The Haase underground tank can be stored almost anywhere – even in flood-prone areas and in areas that can be driven over.
At the customer's request, the Haase tank is delivered with special vehicles and stored by experienced specialists. In a matter of hours, they can dig the pit, store the tank, and run off the excess soil. If necessary, the connection work as well as the dismantling and disposal of the old tanks can be taken over.
THE RIGHT TANK SIZE FOR YOUR NEEDS
Haase underground tanks can be stored almost anywhere – even in flood-prone areas and in areas that can be driven over. Thanks to the load-bearing wall made of poly concrete, the Haase underground tank is extremely stable: it withstood a load of more than 100 tons! If the groundwater level is high, the tank can be secured against buoyancy with little effort.
The Haase underground tanks of the "Poly" series have the general technical approval Z-40.11-205 from the German Institute for Building Technology (DIBt) for the storage of heating oil EL according to DIN 51 603-1, diesel fuel according to DIN EN 590 and liquids according to media lists 40 -2.1.1, 40-2.1.2 and 40-2.1.3.
Do you have any questions?
We will be happy to help you by phone or email.
UNDERGROUND OIL TANKS IN GRP
The Haase underground tank is characterized by its three-wall structure. Thanks to the polymer concrete, the tank can withstand high static loads, and thanks to the GRP it is durable and resistant to aging. It has a relatively low weight, which makes it possible to move it without a heavy-duty crane. You can find more information on our GRP material and the various manufacturing processes on the following page.
THE SAFETY
The Haase heating oil tank is constructed with three walls. The load-bearing wall made of synthetic resin-bonded pebbles is located between the inner and outer tanks made of glass fiber reinforced plastic (GRP).
Fine air channels that run between the pebbles enclose the inner tank like an invisible network (control room).
To monitor the safety of the heating oil tank, a negative pressure is generated in the control room, which is monitored around the clock by a vacuum leak detector.
Regular checks by authorized experts from technical surveillance organizations are provided for underground tank systems by law. In principle, this check must be carried out every 5 years, in water protection areas every 2 1/2 years. Checks of this type are very easy with Haase heating oil tanks. The expert only checks the functionality of the safety devices (leak detector and overfill protection). A check inside the tank is no longer necessary – this saves costs.
THE HAASE UNDERGROUND OIL TANK IN PRACTICE:
CONVINCE YOURSELF WITH OUR REFERENCES
Do you have any questions, would you like a specific offer or a free and non-binding on-site appointment? Then send us a message using our contact form or send a mail to info(at)haasetank.de.