HEATING OIL BASEMENT TANKS FROM HAASE – MOUNTABLE ON SITE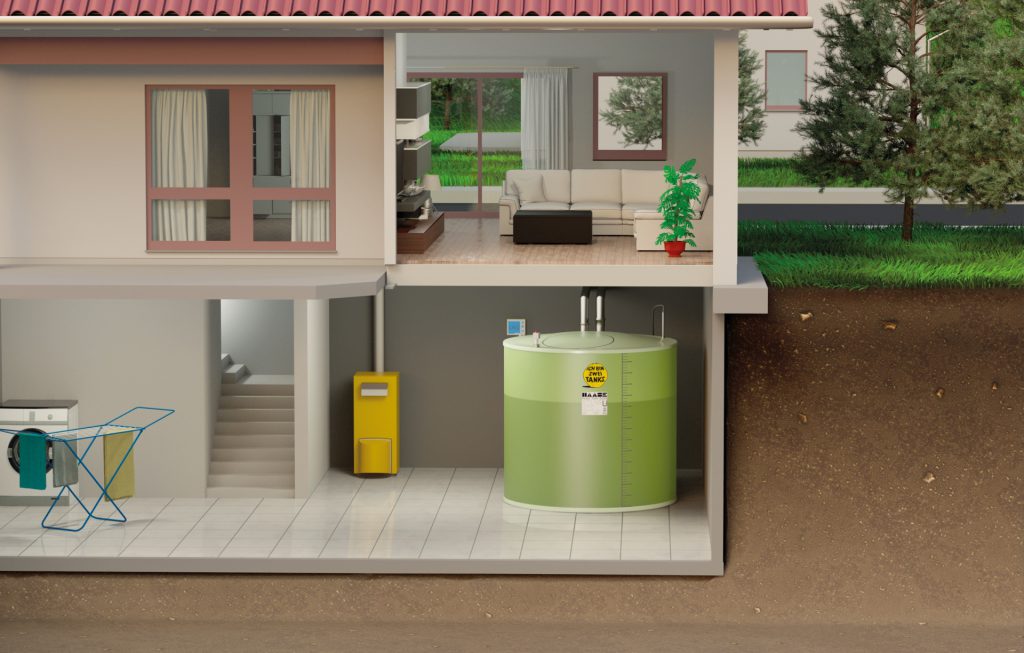 Small through the door – big in the basement: this applies to all Haase basement tanks. We deliver double-walled heating oil tanks with a quality guarantee.
The basement tank should be sized so that its capacity corresponds to at least one year oil consumption. With a Haase basement tank, you usually only need a single container. This saves space and thus costs compared to battery tank systems.
In addition to the legal conditions and deadlines, Haase agrees that the wall of the double-walled Haase basement tank is sealed against the leakage of heating oil for a period of 30 years, calculated from delivery.
THE ADVANTAGES:
THE HAASE BASEMENT TANK …
fits anywhere,

because it fits through small doors and grows big in the basement!

does not require a collecting tray,

because the tank is double-walled, the outer and inner tanks are each completely sealed.

is safe,

because it monitors itself with a leak detector.

is dimensionally stable, odor-proof, aging-resistant and 100% rust-free,

because it consists of high-quality glass fiber reinforced plastic (GRP).

has a transparent tank wall,

therefore the fill level can be read at a glance at any time.
is the solution for flood-prone areas,

because up to a volume of 5,000 liters it is available as a buoyancy-proof variant.

is the optimal solution for all earthquake zones in Germany,

because it has the approval of the DIBt.

is particularly easy to maintain,

because it is easy to walk on and can be optimally cleaned later.

holds your entire annual supply in one tank,

because with over 90 different standard types, your desired size is also included.
THE ASSEMBLY
A 4,000 liter tank in the basement? Through the narrow door? Over that narrow staircase? These are questions that some homeowners have had to worry about before planning their oil heating.
Difficult spatial conditions are no problem for the Haase basement tanks. The tank is delivered in individual parts: the wall is rolled up like a carpet, the floor and lid are halved if necessary. It fits through every door, even through the smallest hatch. The tank is only assembled on site.
THE RIGHT TANK SIZE FOR YOUR NEEDS
No basement is like another: one wide and low, the other narrow and high. One household needs more heating oil, the other less. Haase offers 10 different diameters from 1.03 m to 4.00 m as well as 9 standard heights between 1.05 m and 3.30 m: This means that every cellar space can be optimally used.
Due to the high level of safety, no lateral wall clearances are required for double-walled Haase basement tanks. The maximum jacket height of the tank is calculated from the basement height minus 50 cm. Up to a volume of 5,000 liters, the Haase basement tank can be set up directly in the boiler room.
Do you have any questions?
We will be happy to help you by phone or email.
BASEMENT TANKS made of grp
The Haase basement tanks consist of the composite material glass fiber reinforced plastic (GRP). This material is characterized by high chemical and mechanical resilience. The tanks are therefore resistant to aging and weathering, corrosion-free and temperature-resistant. You can find more information on our GRP material and the various manufacturing processes on the following page.
THE SAFETY
Haase basement tanks are double-walled. This means that there is a second, inner tank in the outer tank. The outer and inner tanks are each completely sealed. Between the walls is the control room, in which a vacuum is generated and monitored around the clock by a leak detector. In contrast to battery tank systems, both tank walls are checked for leaks in the Haase basement tank. Basement tanks from Haase therefore do not require a sump. Even in water protection areas, it is allowed to put these tanks "just like that" in the basement.
THE BASEMENT TANKS IN PRACTICE:
CONVINCE YOURSELF WITH OUR REFERENCES
Do you have any questions, would you like a specific offer or a free and non-binding on-site appointment? Then send us a message using our contact form or call your contact Ms. Kathrin Spandow directly at +49 35 952 – 355 11.